EIT Academy Engineering Economics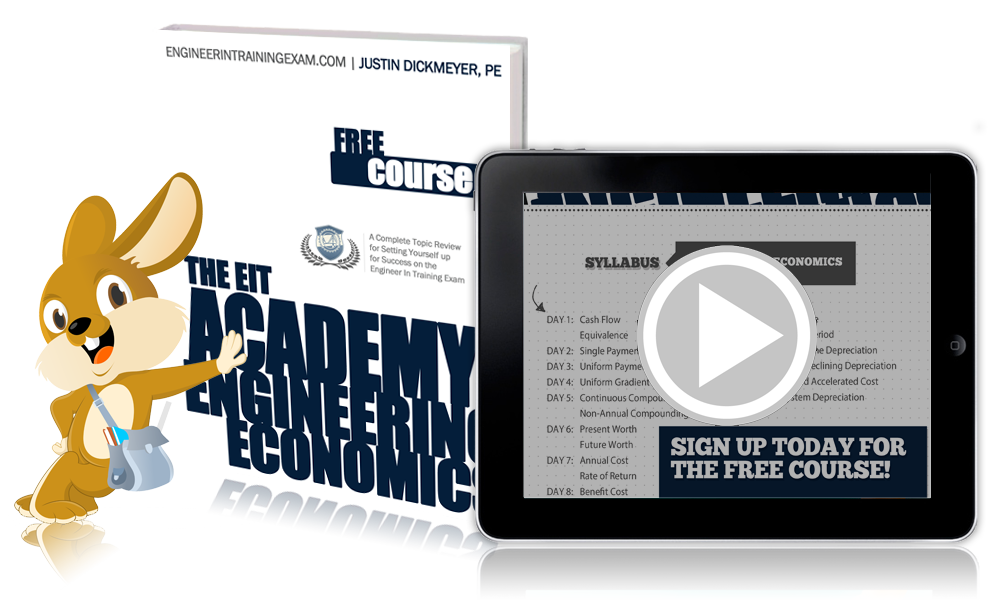 Don't miss out on this FREE course, enter your Name and Email below to get on the list.
What's it all About?
[unordered_list style="tick"]
Full Engineering Economics subject review
21 In-Depth Lessons delivered straight to your Inbox
Work from Concept Introduction through complete sample Problems and Solutions
What more? It's FREE #FiveCarrots
…sign up TODAY to be part of the Course.
[/unordered_list]
Course Information:
[unordered_list style="green-dot"]
Course Title: EIT Academy Engineering Economics
Starting Date January 30, 2013
Overall Course Aim: Simple, to help YOU dominate this portion of the exam, period.
Cost: FREE
[/unordered_list]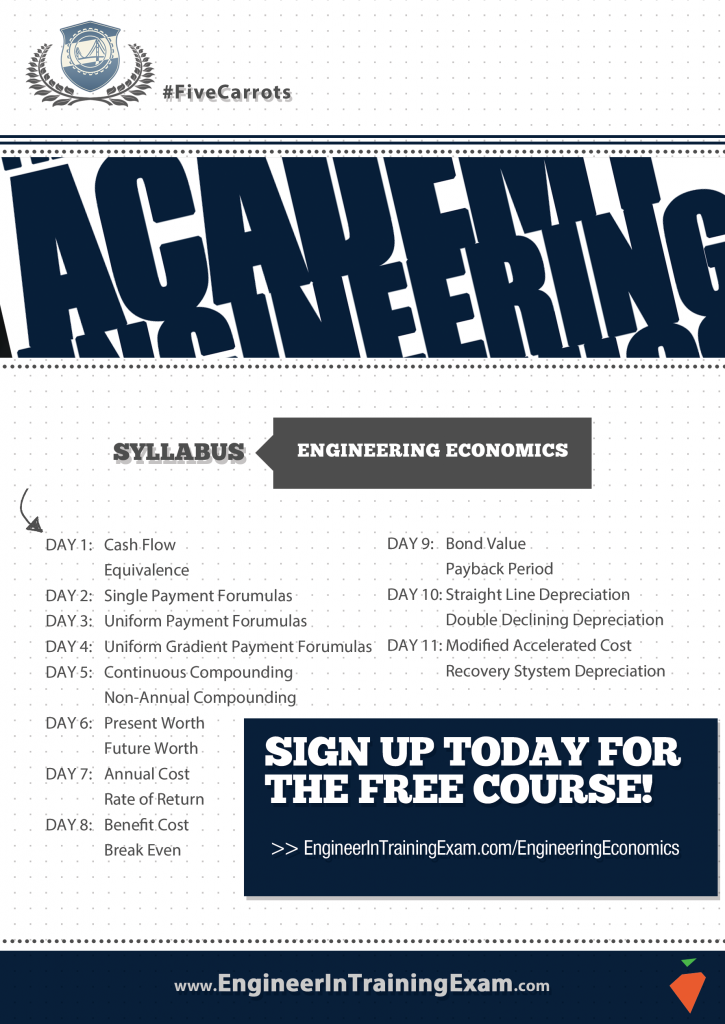 Join with me…
It's become something of an EngineerInTrainingExam.com tradition — I'm gearing up to take it to the next level in this New Year…and my focus, as always, is YOU.
And part of that tradition is that I like to give you lots of great new FREE content. This year I'm creating lots of in-depth Courses on the critical subjects covered on the EIT Exam to help you thrive come exam day.
The Courses will be effective, to the point, and most importantly, convenient for our busy lives. Each course will have a specific syllabus, with the lessons delivered straight to your email daily. Each lesson will be accompanied with resources to reinforce the concept and ensure you are fully understanding the content.
This Course will cover ENGINEERING ECONOMICS. You can click on the "Play" button in the graphic above to download or view the Syllabus.
But here's the deal, I also want to make sure I'm not emailing you more often than you would like — so if you'd like to take part in the course, you'll want to sign up for the ENGINEERING ECONOMICS course using the Sign Up box above.
After you sign up, make sure you confirm your email address so you don't miss out on the content.
Looking forward to seeing you in the course! Just leave your name and email address above, take a minute to confirm your email address, and I'll take care of the rest.
Take Care!


Justin Dickmeyer, PE
EngineerInTrainingExam.com
What's holding you back?

SIGN UP NOW!