Here you are…starting your journey and looking for FE Exam tips.
I get it.
As engineers, it's natural for us to stand tall in the midst of challenges like this and dive in head first…often alone.
That's just how we are hardwired.
It's exciting to go at it alone and create something through our own brute force.
However, the reality is, while this may feel right at first, we've also seen it be a dagger for many students who come to our Prepineer program after recently failing (often more than once).
I can personally relate to wanting to go at it alone.
The deal is, we are all so busy at this point in our life and the journey towards preparing for and passing the FE Exam is not as wide open as it was when all we had was school to focus on.
With family obligations, job responsibilities, and an ever growing demand of schedule things can get complicated…quick.
So About Those FE Exam Tips…
So maybe you are the hard-working, up-late, chauffering-the-kids-around, trying-to-keep-it-all-together kind of student…
Or the busy, just pursuing a better life kind of student…
Or the grinder, the hard work pays off kind of student…
Wherever you fall on this spectrum, you just need some FE Exam tips to make adding another thing to the mix…
Possible.
Here we provide five small ways to balance studying for the FE Exam with your other commitments.
I speak directly to the FE Exam throughout this article, however, these suggestions can be relevant in all areas.
The 12-part Academy Course
Need a proven roadmap? Enter your name and email and I'll see you on the inside! (IT'S FREE)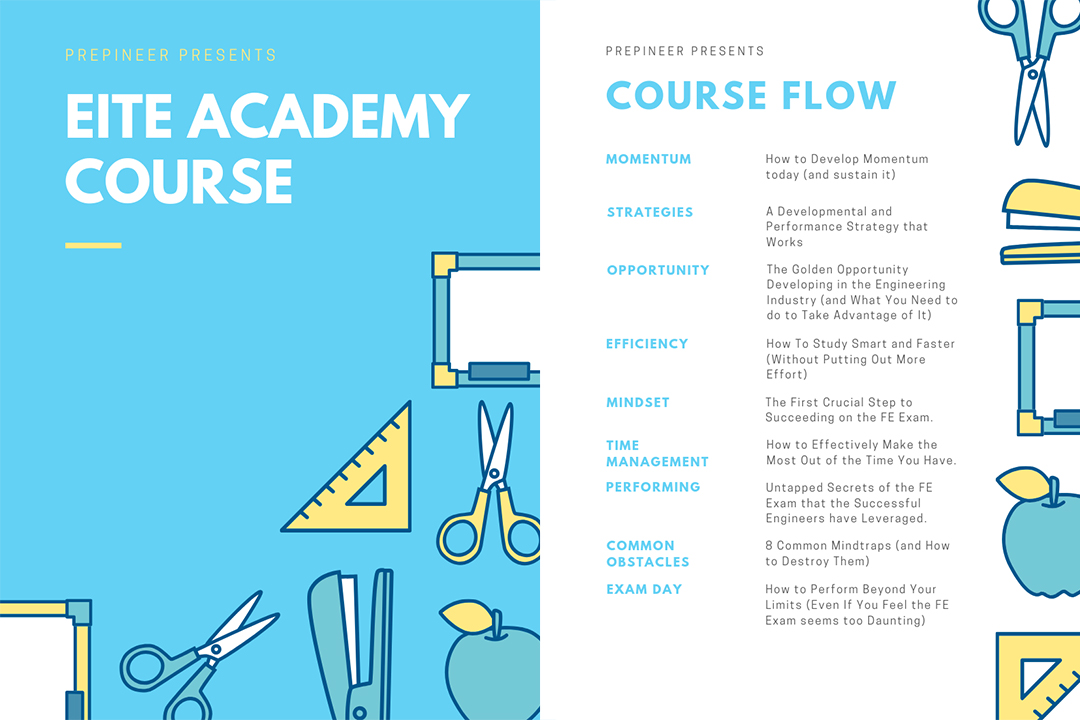 I'll start emailing you the course, as well as send you advice and exclusive invites to live courses. Unsubscribe at any time.
Start your FE Exam prep early (and Plan it)
It's far more doable to study a little each week over the course of several weeks than to wait until the last minute and cram it in all at once.
Yes, you can pull this off for a few days, but eventually, the breadth of what this exam covers will decimate you…
Both mentally and physically.
Instead, do a little planning and treat preparing for the FE Exam as you would any other project in your life.
Look, you wouldn't go and run a marathon without ramping yourself up in preparation.
You wouldn't go do a speech without lining it out and running it through first.
So why are so many treating the FE Exam as if it's just another *something* that doesn't need to be planned for.
Many are trying…but not succeeding, and this is a blow to your life/career (and time) that makes a real impact.
So plan a little.
Any planning will lead to far less stress and will not be such an impact to your normal day to day.
Get a visual on what this all entails…it will make a difference.
Study on the Go
There is so much that we don't understand about time.
We were brought up to believe that it is *scarce*…but it's not.
I write about my thoughts on this whole time thing here.
Without getting too far in to the weeds, I just need you to realize one thing:
You *do* have time to get the FE Exam knocked out.
15 minutes here, 30 minutes there…it can add up.
Get in some micro studying when you can.
Maybe a few practice problems on the commute in to work.
Or a review of a topic when you are sitting on the…ahem, well, you get it.
If you focus on fitting in these little micro sessions you will find that your FE Exam mindset become dialed in.
Even if you're not committing large blocks of time each day to studying, you can find a cadence that will push the needle forward.
Set a Schedule and stick to it
To succeed at anything in life, you need accountability…straight up.
At Prepineer, we set all of our students up with a personal mentor/coach who helps them assess their strengths and weaknesses.
From there, they set up a custom study schedule that outlines exactly what they need to be studying and when.
The student and coach will then maintain contact throughout the process to ensure everything is moving ahead per the plan.
This is accountability and makes a huge difference when it comes to following through on your commitments.
But if nothing else, you should be setting yourself up with a personal study schedule.
A plan of attack that will give you a visual on what the path looks like.
This will keep you on track ensuring that weeks don't go by without you touching your FE Exam prep material.
So let's keep your books from gathering dust in the corner, create a study schedule and stick to it.
Stay off the social networks
We can get connected anywhere today…at any time.
We have data like no other at our fingertips.
News, scores…drama, with a tap we can be up to date on everything.
But at what cost?
Should we eat that 10th piece of chocolate?
Well, ya, maybe. 🙂
But real talk, I know you are on point with your new iPhone..but we've got to put an x-nay on these 'ol social networks.
They have wrecked shop on so many people's lives…and they will obviously wreck shop on any semblance of progress towards passing the FE Exam.
Put an end to these productivity killers, at least for the time you are studying, you won't regret it.
Rally Your Peeps
There's a great African proverb that says:
"If you want to go quickly, go alone. If you want to go far, go with a group."
This is one on of the foundational building blocks of our program Prepineer, to provide a place for engineers like you to come together and capitalize on the power of community.
But it isn't the only way.
Look around in your local and virtual hangouts and start building a group of individuals who have the same dreams and aspirations as you.
There are more people than you think stepping out in pursuit towards passing the FE Exam.
Most of them are doing it alone.
So change that.
Here are just a few places to start looking for others that are going down this same road as you:
And mix it up a little when rallying the troops.
Wherever you land, connect with people who are just graduating.
Connect with people who are about where you are.
Connect with professors.
Make a connection with managers in all companies (locally and beyond).
Connect with engineering experts.
The more diverse your network is, the more powerful it is.
When you meet on a regular basis with a group of people, it will take you out of the snare of isolation.
And like a training partner at the gym, this will encourage you to take your FE Exam prep to the next level.
But there is one thing I need you to always commit to when making these connections:
Don't be a leach.
There is nothing that repels connection faster than someone who's always asking and never giving.
Be generous, be friendly, be open to unexpected connections, and provide value where you are able.
So now you need to take action.
Pick one of these tips right now and put it in to practice…when you do, you will find yourself in no time gaining that traction you have always wished for in your FE Exam prep.